​Wave to the Future: Establishing a surface current mapping system for the cental Red Sea

Antenna pattern measurements from boats ensure quality control of the recently installed surface current mapping system. (Photo: B. Pereira)
The Saudi Aramco-KAUST center for Marine Environmental Observations (SAKMEO) has installed a surface current mapping system along the central Red Sea. This system, which measures waves and maps surface currents, brings tremendous insights into the surface circulation of the Red Sea. Around the world, these surface current mapping systems are used to track marine contaminants, manage fisheries, design marine protection areas, improve shipping, aid in search and rescue operations, assess the potential of ocean energy and contribute to our fundamental understanding of ocean processes. Once long-term time-series are established, future forecasts are possible including assessing impacts to coastal areas, improving weather forecasts and monitoring climate change.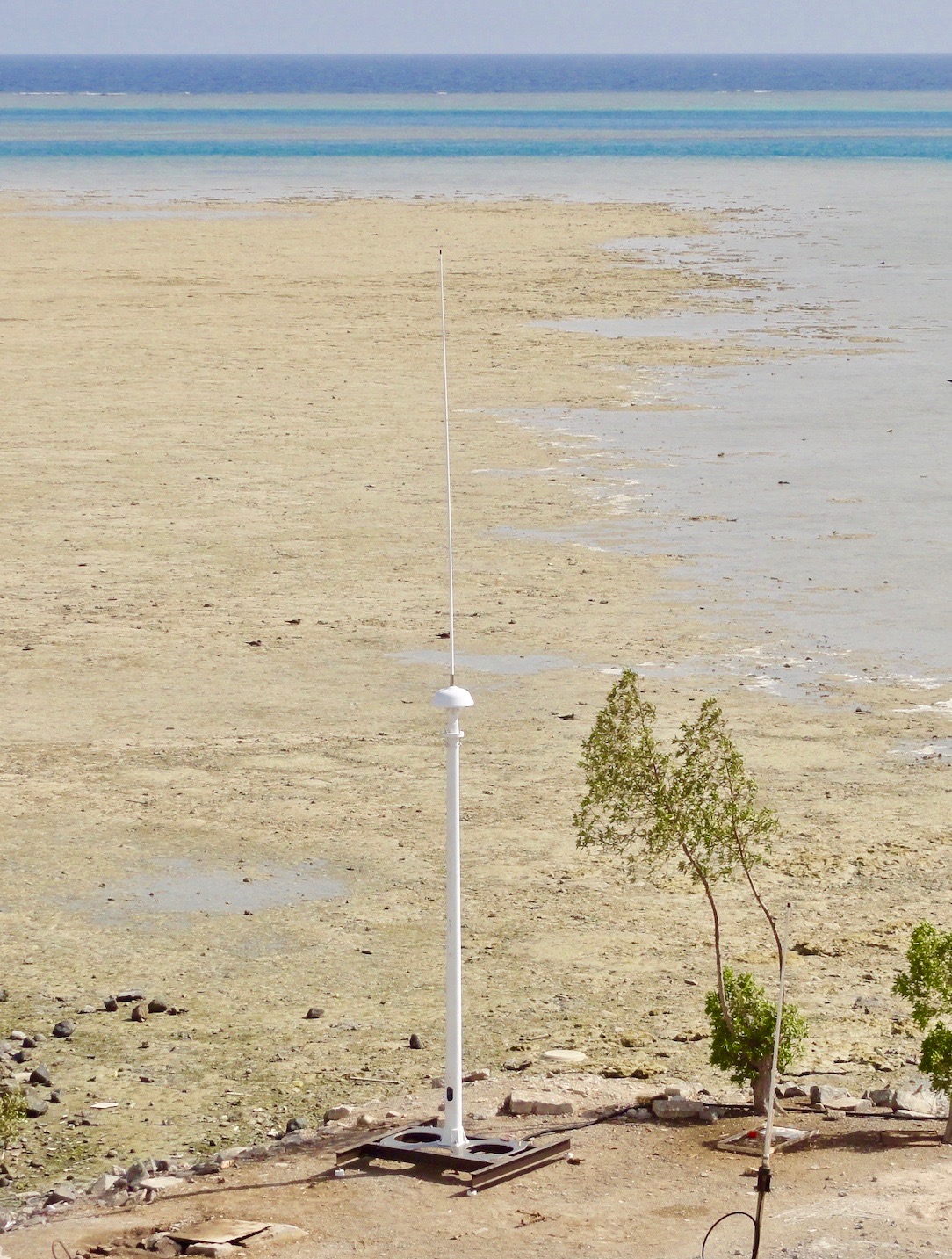 At KAUST, Professor Burt Jones has paved the way for Saudi Arabia's first surface current mapping program. Working closely with CODAR – providers of the SAKMEO surface current mapping system – the central Red Sea system is the first of several installations anticipated to provide broad coverage the breadth of the Saudi Arabian coastline. "The mapping of surface currents is one of those areas of research where both the scientific community and the non-scientific community can derive mutual, direct benefits", explains Professor Jones. "These observations will significantly improve our understanding of the processes that contribute to the physical, biogeochemical and ecological linkages within the Red Sea. They also provide a direct societal benefit for situations such as contaminant spills and search and rescue operations."
With the support of KAUST's coastal and marine resources laboratory (CMOR), CODAR's Chad Whelan and Bruno Pereira from Qualitas provided expert guidance in early June, ensuring the antennas were erected properly, the antenna patterns produced solid results and the data streaming was sound.
(photo: B. Pereira)
"The new hourly HF Radar data, with 3km of spatial resolution, will permit us to analyze and understand different temporal and spatial scale surface circulation processes. This new data allows us to gain new insights to the surface currents in the central Red Sea, as done previously in several locations all around the world", explains Lohitzune Solabarrieta, post-doctoral fellow in physical oceanography. "We will also use the recently installed HF Radar Technology as an operational tool as it offers real-time high resolution data. This data helps us in forecasting coastal and climate changes, and can be used for detection of marine activities."
CODAR antenna ready for installation along the central Red Sea.
This surface current mapping capability, a first for Saudi Arabia, will enable near real-time information of currents, which carry nutrients, pollutants, stranded boats, or anything that floats. With an observed range of up to 100km off-shore, our knowledge of the surface current patterns and trajectories in the Red Sea is increasing exponentially. Likewise, the Kingdom's ability to predict, prevent and respond to sea-based events expands.