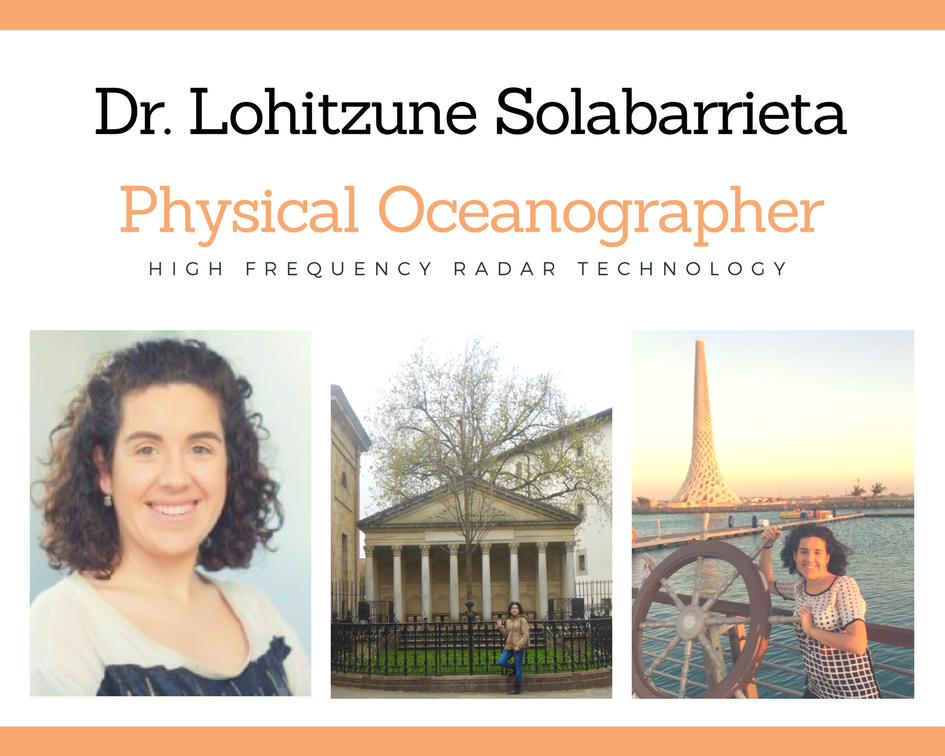 Dr. Lohitzune Solabarrieta arrived at KAUST in 2016 as a Postdoctoral Fellow in the Integrated Ocean Processes Lab. Originally from the Basque Country in Spain, Lohitzune completed her PhD in July 2015 entitled "Study of the surface ocean dynamics in the Bay of Biscay, using HF radar technology". High Frequency (HF) radars measure the speed and direction of surface ocean currents. The knowledge resulting from these observational structures can enable forecasting and early warning systems, helping decision-makers to manage ocean-related risks. Lohitzune shares the inspiration for research, the research she is undertaking at KAUST and her related achievements over the past year at KAUST.
What are your research interests?
My research interest is focused on the study and understanding of the different ocean surface circulation processes and their links with the subsurface waters. I am currently using the HF Radar data, which provide us with hourly currents velocity maps, with a spatial resolution of 3 km, up to 100km offshore, in the central Red Sea.
Why did you choose to come to KAUST?
I came to KAUST because I have applied HF Radar technology during my PhD and it was really useful to understand the different spatio-temporal processes. The high resolution not only allows us to study the sub-mesoscale features, but also to analyze lower scale dynamics, such as seasonal or inter-annual variability.
The funding and the time in our research are really important, and at KAUST I have what I need. It is always exciting to be the first to do something, and this fellowship at KAUST means I am able to apply my knowledge in HF radars to the Red Sea, a first for Saudi Arabia and the entire region.
What will success in your research career look like
As the Red Sea is still an unexplored body of water, it is a challenge for me to set up the system and interpret the first dataset – I know that it will surprise me! Being able to give the first seasonal description of the surface currents before the end of my postdoc in KAUST, both in the Central and the North of the Red Sea, will mean success for me. It is also a great opportunity for me to be involved throughout the process, from installation to data collection to publishing. This level of participation means I will be able to recreate this research in other places of the world that requires ocean observing capabilities.
What advice do you have for others with a similar research interest?
My only advice is to enjoy the research. It is very gratifying when you spend a lot of time analyzing something new that looks like an error, and then you finally find the explanation!
What do you enjoy beyond your research?
Even though people think that scientists are crazy or geeks, beyond our science we are normal people. I enjoy doing sports, spending time with our families and friends, travelling around the world and learning about different cultures.
My final advice on research: Try and try until you get it!
Lohitzune's former supervisors all agree that it is her tenacity, knowledge and attitude that have made Lohitzune a successful researcher. As Prof. Santamaria of IH Cantabria stated, "I am completely confident in her capabilities. She is a hard-worker, collaborative, creative and well organized". We agree, and are privileged she chose to join the IOP Lab at KAUST.